An update from the weeding teams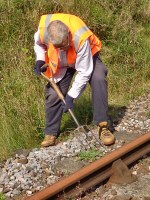 Claire Sheppy has provided an update on the recent weeding session at Nethercott Bridge:
Due to potential problems of access, we were only going to take four people on this particular weeding party, accessing the line at Nethercott foot crossing. As it was, we were one person short as one of our team was not well. We did not quite achieve what we were hoping to as we were wanting to complete the section from the foot crossing to the railway bridge. We shall go back and finish it another time.
Meanwhile Shirley Turner writes about a forthcoming weeding task at Watts Bank, between Whiskey Trail Crossing and Watersmeet Bridge:
Lee Robbins is needing some assistance on Saturday 3 October to finalise the weeding from Watersmeet Bridge to Whisky Trail. This will then complete the section from Watersmeet Bridge to Bishops Lydeard and through the station. Also Claire's team will not be long before they link up with Lee Robbins, meaning that Crowcombe right through to Bishops Lydeard will be complete. Also Phil Hall's team have reached Leighwood Crossing, so it won't be that long before we have a completely weeded line right from beyond Stogumber (Williton side) to Bishops Lydeard. Good work by all involved!
20 September 2020
Details kindly provided by local volunteers