An 'Open Morning' for prospective volunteers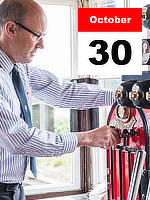 The West Somerset Railway is holding an open day for prospective volunteers on 30 October 2021 at Bishops Lydeard Station.
Anyone who has ever considered becoming a volunteer heritage railway worker or maybe fulfilling childhood ambitions of getting actively involved in the romantic world of running steam trains will find a warm welcome awaits on the West Somerset Railway (WSR) at the end of this month when the 20-mile line holds an 'Open Morning' for prospective new workers.
As the WSR nears the end of what has been a very busy summer holiday period, and one in which volunteers have played a crucial role in the railway's slow recovery from Covid 19, the WSR is now seeking new people who might be interested in volunteering on the line to come along to the 'Open Morning' at Bishops Lydeard station, near Taunton, between 10am and 2pm on Saturday 30 October 2021.
The 'Open Morning' presents a great opportunity to find out about volunteering on the WSR in general and to speak to some existing railway volunteers in different departments and organisations about their many different roles along the line. Volunteers have kept the WSR going for the last 45 years since the line re-opened as a heritage railway in 1976, and there are almost 1,000 regular workers today but more are always needed.
Mon, 19 Oct 2021 19:00:00 GMT 18 October 2021
Details kindly provided by West Somerset Railway Plc