Resident magician Don announces like-for-like replacement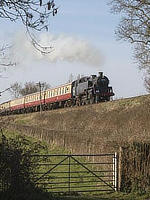 Don Bishop, Chairman of the WSR's Gala Planning Team, has managed to work his magic and arrange a loco to replace BR 2-6-4T no 80104 which is now unable to attend the Autumn Steam Gala. Don explains:
After much effort and many phone calls I'm pleased to be able to advise that I have secured another BR Standard tank to replace no 80104 which became unavailable at late notice. The loco is sister Class 4MT no 80072 from Llangollen Railway. So - a huge thank you to our friends at Llangollen Railway and the loco owning group for pulling out the stops and getting the loco back fit again in their workshops to help us out and testing the loco out on their line this morning. Also Reid Freight Services who are going to move the loco for us at very short notice, having dropped no 70013 at Quorn, GCR, this afternoon they are then diverting to Llangollen to collect no 80072 tomorrow morning. So, no 80072 is expected to arrive at Bishops Lydeard late on Wednesday, maybe not until Thursday morning.
25 September 2018
Details kindly provided by West Somerset Railway Plc