Railway Shops, Turntable Cafe, Readers Halt to reopen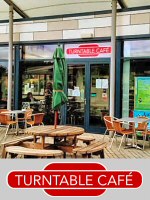 The Railway have some good news to share:
With the easing of restrictions from Monday 12 April we are delighted to let you know that the West Somerset Railway shops at both Minehead and Bishops Lydeard will reopen next week, along with the Turntable Cafe and Readers Halt Bookstall at Minehead Station.
Minehead Shop along with the Turntable Cafe and Readers Halt Bookstall will be open all next week from Monday - Sunday between 10am and 3pm.
Bishops Lydeard Shop will re-open for business on Wednesday 14 April at 10am. Their regular opening times will be Wednesdays and Saturdays from 10am to 3pm until our excursion services start later in May.
We will be continuing with social distancing in line with Government advice. For Bishops Lydeard shop a one way traffic system will be in place which has been used previously, therefore please enter through the booking office lobby and exit through the doors on to the platform. We are sorry that we are still unable to offer any cafe facilities at Bishops Lydeard at the moment.
Hand sanitisation facilities will be available at both locations and we ask all visitors to please wear a face covering whilst in the shops or cafe.
We look forward to seeing our regular customers as well as new friends upon our reopening.
9 April 2021
Details kindly provided by West Somerset Railway Plc