Autotrailer no 169 section three floor framework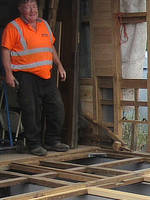 The folks rebuilding - almost from scratch - GWR Autotrailer no 169 have again updated their 'news and restoration' blog:
Following on from yesterday's successful operation to remove the tempory cover from the carriage we followed up with a very productive day first fitting the framework of section 3 of the carriage. We were confident the section in isolation was 'good to go' but until today we had not had the opportunity to see how well it fitted the existing bodywork. Well, by about midday just about all our fears were a distant memory and we were very happy with the outcome. The photographs show most of the woodwork in question with one or 2 small pieces omitted that still require final finishing. Because we can only mark the final fixing holes from underneath we will need to address that before final fixing can take place. We will then be able to erect the bodywork sides before tackling further roof hoop manufacture.
To see the pictures and more reports, please visit the blog:
17 September 2021
Details kindly provided by 5542 Ltd