Martin Southwood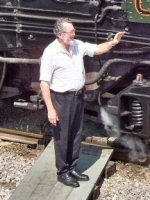 I heard yesterday from a good friend of the sudden passing of WSR volunteer Martin Southwood - a man full of enthusiasm for the Railway and a man always willing to step in to help.
In a message to staff, Richard Jones (Head of Operating), says:
It is with great regret, and tremendous sadness, that - having fielded a telephone call from Gill, his wife, this morning - I write to advise you that Martin Southwood has passed away very suddenly, having suffered a heart attack from which he never recovered.
Martin's last turn of duty on the WSR as a volunteer was as recently as Wednesday in Minehead Box.
Martin was a regular and stalwart Signalman in almost all our signalboxes for many years and was a valuable, committed and hard-working member of the Operations team. His passing is a very sad loss, both to the Ops Dept and to the wider railway as a whole.
Our thoughts and sympathies are very much with Gill and the family at this sad time.
RIP Martin - it was a joy to know you, and work with you.
If I may add a few words. Martin was also a keen photographer and kindly ensured a steady supply of topical images of the WSR for this website. Above all, Martin was a very good friend and it was always a pleasure to be in his company. My thoughts are very much with Gill and the family.
19 October 2018
Details kindly provided by local friends and the WSR Plc