A chance find in a Californian antique shop's store room has opened a fascinating link between Minehead and Los Angeles, 5,341 miles away as crows or seagulls fly, and excited volunteers at the West Somerset Railway.
The discovery of a dusty, wooden roll-fronted cupboard hanging high on the wall in Agoura Antique Mart was only made because of the curiosity of a customer who took a long-range photograph so she could enlarge the image and then discover exactly what it was.
The answer proved to be a vintage ticket cabinet from Minehead railway station which probably last saw service in the 1960s. The mystery, still unsolved, is who rescued it when the branch line from Taunton was run down and finally closed in 1971 by British Rail, then took it to the United States.
The finder was Kansas-born Mrs Angela Cutbill, who said that because of where the cabinet was hanging in the shop, she had to take the picture to zoom in to get a better look at the markings on it.
I could tell that it came from a railway station in the UK, and decided immediately to buy it.
Mrs Cutbill and her English-born husband David originally met while studying at Durham University, and they lived and worked in the UK until moving to California 25 years ago where he works for financial firm Deloittes.
They have three grown-up children, and before contacting the West Somerset Railway to try and identify exactly where it was from, she did some detective work of her own with the help of a relative who works here in the railway industry. Mrs Cutbill explains:
Given the labels on the ticket slots, we believed that the cabinet probably came from somewhere on the Minehead to Taunton line because of the destinations – Dunster, Blue Anchor, Washford, Watchet, Williton, Crowcombe and Taunton"
It is now right by my front door where I intend to show it off to all who visit us, and I don't intend to do anything to it other than polish it occasionally because it really is beautifully built and in perfect condition – it rolls open and closes like new. Thankfully it needs nothing but admiration.
Mrs Cutbill's email enquiry was then passed to members of the West Somerset Steam Railway Trust to try and correctly identify where the itinerant ticket rack cabinet might have come from.
The railway's Journal editor and artefacts expert, Ian Coleby, examined the photographs sent from Los Angeles and came to the conclusion that indeed it must have come from Minehead ticket office, because the resort did not feature on any of the hand-written labels.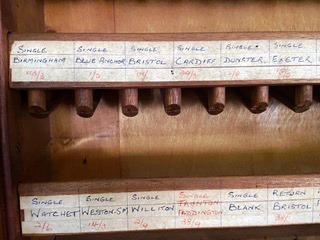 The single fare to Dunster was shown as 8d (3p), Blue Anchor 1s 9d (9p), Watchet 2s 6d (13p) and Williton 2s 9d (14p) – all slightly less than those in the final fare table issued in 1970 for the branch line, which then closed at the beginning of 1971.
Picture © Angela Cutbill
Chris Austin, former chairman of the West Somerset Steam Railway Trust, said he agreed it must have come from Minehead because of the number of labels for tickets to principal stations around the country beyond Taunton such as Bristol, Birmingham, Manchester and Liverpool.
Printed tickets were only provided where a reasonable number were sold, with a minimum of 100 a year when I joined British Rail in 1967. Minehead generated a lot of long-distance travel right up to closure.
His opinion is that since the cabinet is very compact and quite small, it must have been a reserve rack at Minehead booking office in the old days, and was used at the second window at busy times such as summer Saturday mornings.
Mrs Cutbill adds:
I am so appreciative of everyone on the WSR weighing in with their thoughts on my cabinet, which I just love. This is all such terrific information that I cannot tell you how very grateful I am. I am determined to visit the WSR next time we come to the UK.
As an elected Independent LA education board member, she is currently helping get local schools re-opened, but when Covid-19 pandemic restrictions are eased, she and her husband say they are determined to visit the West Somerset Railway during their next trip to Britain.
Written by Ian Tabrett of the West Somerset Railway.
Pictures by Angela Cutbill.
December 2020